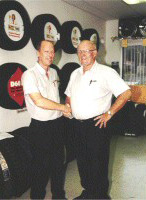 Santing's OK Tire Store has been providing automotive services and automotive parts to Windsor Ontario and its surrounding areas for over fifty years.
In October of 1958, Al Santing decided to open his own tire retreading business which after years of perseverance, hard work, and dedication, has successfully transformed into the expert automotive service and repair shop that Santing's OK Tire Store is today.
Al's son David Santing joined the family automotive business in 1978 and continued to expand the automotive specialty services that Santing's OK Tire offers. By staying ahead of the technological curve in the automotive industry, Santing's OK Tire has been able to branch out in many directions to offer wholesale and retail automotive parts and services to businesses in addition to servicing the residents of Windsor-Essex County, Ontario.
We have been able to withstand the wavering economy and maintain our position in the automotive service industry because of the continued loyalty and support of our customers and the dedication and skill of our automotive staff. At Santing's OK Tire we have been continuously upgrading our automotive equipment, technology and expertise to be able to offer industry leading and customized automotive services.
Read the whole story
We hope that you will make an appointment and let us help you with your automotive needs.