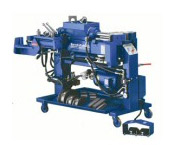 Santing's OK Tire has an on-site specialty automotive exhaust centre. Our automotive experts are equipped with the technology and expertise to repair or replace both custom and regular exhaust systems in every type of vehicle. We have the technology to bend aluminum and stainless steel exhaust tubing of up to 3" in diameter. We also specialize in repairing or replacing catalytic converters for all automotive makes and models.
All of our custom and regular exhaust system work is competitively priced and it is often cheaper for us to repair it versus replacing it. Our highly skilled and certified automotive staff sells and installs numerous varieties of exhaust systems including aftermarket performance exhaust systems, custom exhaust systems, stainless steel and chrome exhaust tips, dual exhausts for pickup trucks and antique cars, and regular automotive exhaust systems.
Please browse our exhaust system manufacturers' websites if you are looking for a specific automotive part or
contact one
of our automotive service sales representatives as they would be happy to assist you.