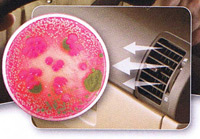 Improve the internal quality of your vehicle's air with the MiST services that Santing's OK Tire offers. MiST stands for mobile interior sonic treatment used to disinfect and deodorize automotive interiors. The MiST service only takes approximately 15 minutes and can protect the health of yourself and your family. When moisture builds and collects on internal automotive surfaces, microbes such as bacteria, viruses, mold and mildew can accumulate and breed in the ventilation system and other internal automotive components of your vehicle. MiST kills microbes on contact and prevents new microbial growth and can prevent serious illnesses.
Visit Santing's OK Tire to MiST the inside of your vehicle & protect the health of your passengers!

When you use your vehicle's heater or air-conditioning system these microbes are blown into the cabin area of the car and is breathed in by you and your passengers. This often leads to the spread of the common cold as well as other respiratory related health concerns especially for those with prior health conditions. It is also beneficial in removing unpleasant odours from tobacco, pets and the workplace.