Santing's OK Tire has an exceptional reputation in the Windsor-Essex County area for quality and expertise in repairing fuel tanks. Our automotive staff has the equipment, knowledge and expertise to repair gas tanks for all makes and models, including classic antique cars, motorcycles, tractors, light trucks and hard to find or rare vehicle models.
Santing's OK Tire automotive specialists can assist in repairing or replacing fuel & gas tanks, sending units, fuel modular, gas tank straps, fuel lines, filler necks, step tanks, and oil pans.
We also wholesale fuel tanks and components to automotive businesses and garages located in the Windsor-Essex County areas.
You can search for your part on our aftermarket auto store website.

Santing's OK Tire applies industry-leading technology known as the
Gas Tank Renu Service
for
fuel tanks and components repairs
. This process allows us to repair damaged gas tank parts through a technique that coats the automotive part in a plastic substance (RENU-1999 coats exterior automotive parts and RENU-2000 coats interior automotive parts) and restores the part to nearly new condition saving the customer both time and money searching for a costly replacement part.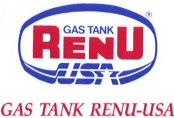 Currently, we use the
Gas Tank Renu
process to service automobile gas tanks, snow plow and truck gas tanks, and marine gas tanks, as well as steel oil pans. The plastic coating repairs the damaged area(s) of the automotive part such as holes, and also provides the added benefit of permanently preventing rust from forming which is a common occurrence in every vehicle but especially troublesome in snow removal vehicles and marine vehicles. This process will help add years to the life of any vehicle!

Santing's OK Tire Store sells the following fuel tank and component parts: